There are so many interesting events and resources at Yale. The ones listed here have been selected with teachers in mind by our Office of New Haven Affairs team. We are currently focusing on New Haven history, social justice, and arts & humanities. All events are free and open to the public, but some require registration.
---
This Month's Featured Event
---
Wednesday, Dec 13, 4:30pm-6:00pm. (Reception to follow)
Henry R. Luce Hall, 34 Hillhouse Avenue, New Haven 
As a prelude to the release of the book based on the work of the Yale and Slavery Research Project, this panel discussion focuses on how elite universities, their founders, and faculty over time, have used, benefitted from, and understood the story of enslavement in the North America. It also examines how successive generations of historians have written and re-written the story of slavery in relation to the nation and its origins. This includes debates over enslavement as lived experience, as migration, as a massive political and economic problem, and as a question of memory and redress, among other topics. Speakers will address the many questions at the heart of the problem of how universities are attempting to face their past, especially in relation to race and slavery. The program will be moderated by David Blight, who has led the Yale and Slavery Research Project and is the principal author of 
Yale and Slavery: A History
 (Yale University Press, February 2024).
---
More Events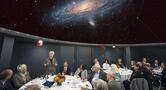 Leitner Family Planetarium Theater is open again!
Tuesdays, 6pm and 7pm shows
355 Prospect Street
Yale's Leitner Family Observatory and Planetarium, which has been closed for shows since 2020 due to the COVID-19 pandemic, resumed its weekly planetarium shows, visits from school groups, and public viewing nights. The new planetarium show, Oasis In Space, transports the audience on a startling and beautiful voyage through our universe, galaxy and solar system in search of liquid water, a key ingredient for life on Earth.  Advanced ticket reservations are required. Admission is free with suggested donation. Weather permitting, visitors to the planetarium shows are invited to observe the night sky through one of the observatory telescopes.

Thursday, Dec 7  ●  4pm 
Online
 The Teacher Leadership Program is a free, one-hour workshop on Zoom for educators of all levels and disciplines that meets at 4:00 pm on the first Thursday of the month throughout the academic year. The sessions are led by Jessica Sack, the Jan and Frederick Mayer Curator of Public Education; Wurtele Gallery Teachers; and Education Department staff. In this program, educators explore innovative ways to connect their curricula and interest in art with the Yale University Art Gallery's collection. The sessions also address online and in-person teaching techniques.