There are so many interesting events and resources at Yale. The ones listed here have been selected with teachers in mind by our Office of New Haven Affairs team. We are currently focusing on New Haven history, social justice, and arts & humanities. All events are free and open to the public, but some require registration.
---
This Month's Featured Event
Feed Your Belly, Feed Your Head series presents -
Thursday, April 20, 4:15pm-6:15pm
Yale Leitner Planetarium, 355 Prospect Street, New Haven 
Inviting teachers to campus to hear an interesting talk, have dinner and drinks, and chat with their colleagues. Topics will vary, but good food and a location with adjacent parking will be a constant.
Dr Kimberly Pinder, Dean of the Yale School of Art, will explore how murals, monuments, and graffiti provide opportunities to engage in issues of community engagement and collective art making, describing the city as a site of discovery and public art and a medium for civic participation.
---
More Events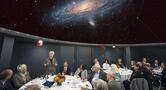 Leitner Family Planetarium Theater is open again!
Tuesdays, 6pm and 7pm shows
355 Prospect Street
Yale's Leitner Family Observatory and Planetarium, which has been closed for shows since 2020 due to the COVID-19 pandemic, recently resumed its weekly planetarium shows, visits from school groups, and public viewing nights. The new planetarium show, Oasis In Space, transports the audience on a startling and beautiful voyage through our universe, galaxy and solar system in search of liquid water, a key ingredient for life on Earth.  Advanced ticket reservations are required, as are masks, and there is a suggested donation of $10 per adult 14 and older. Weather permitting, visitors to the planetarium shows are invited to observe the night sky through one of the observatory telescopes.

The Woods so Wild: Voices of Nature from 17th-Century Europe
Sunday, April 23, 2023  ●  7:30pm-9pm 
Marquand Chapel, 409 Prospect Street
How can the organ, that wondrous mechanical marvel, envoice nature? In this program we hear how the instrument's music reanimates the sounds of the natural world — the rumble of thunder and the crack of lightning, the lilting hum of the forest, and the whisper of falling leaves, the trills of the nightingale, and the persistent call of the cuckoo — in works by William Byrd, Dieterich Buxtehude, Girolamo Frescobaldi, Alessandro Poglietti and others. These sounds echo down to us across the centuries, all the more powerful and urgent today as the beauty and balance of the natural world come increasingly under threat.
Yale Camerata - "To Sit and Dream"
Sunday, April 30, 2023  ●  4pm-6pm
Woolsey Hall, 500 College Street
The concert is inspired by the music and texts of African American composer Margaret Bonds and authors Langston Hughes and W. E. B. du Bois. Yale Camerata is a seventy-voice vocal ensemble whose members are Yale graduate and undergraduate students, faculty, staff, and experienced singers from the New Haven community. 
---
Looking Ahead

Thursday, May 4, 2023  ●  4pm 
Online
 The Teacher Leadership Program is a free, one-hour workshop on Zoom for educators of all levels and disciplines that meets at 4:00 pm on the first Thursday of the month throughout the academic year. The sessions are led by Jessica Sack, the Jan and Frederick Mayer Curator of Public Education; Wurtele Gallery Teachers; and Education Department staff. In this program, educators explore innovative ways to connect their curricula and interest in art with the Yale University Art Gallery's collection. The sessions also address online and in-person teaching techniques.