There are so many interesting events and resources at Yale. The ones listed here have been selected with teachers in mind by our Office of New Haven Affairs team. We are currently focusing on New Haven history, social justice, and arts & humanities. All events are free and open to the public, but some require registration.
If you have other ideas, please email marie.bong@yale.edu.
---
This Month's Featured Event

Feed Your Belly, Feed Your Head series presents -
Thursday, Nov 2, 4:15pm-6:15pm
Yale Leitner Planetarium, 355 Prospect Street, New Haven 
Inviting teachers to campus to hear an interesting talk, have dinner and drinks, and chat with their colleagues. Topics will vary, but good food and a location with adjacent parking will be a constant. 
Join us for a talk with Peruvian writer-director, Alonso Llosa, about the benefits and challenges of independent filmmaking in Latin America and the role of government funding in producing movies. Alonso will also discuss his film La Restauración which will be screened as part of Yale's Latino & Iberian Film Festival (LIFFY) the first weekend of November!
---
More Events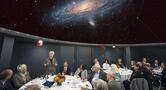 Leitner Family Planetarium Theater is open again!
Tuesdays, 6pm and 7pm shows
355 Prospect Street
Yale's Leitner Family Observatory and Planetarium, which has been closed for shows since 2020 due to the COVID-19 pandemic, resumed its weekly planetarium shows, visits from school groups, and public viewing nights. The new planetarium show, Oasis In Space, transports the audience on a startling and beautiful voyage through our universe, galaxy and solar system in search of liquid water, a key ingredient for life on Earth.  Advanced ticket reservations are required. Admission is free with suggested donation. Weather permitting, visitors to the planetarium shows are invited to observe the night sky through one of the observatory telescopes.
Art & Protest Film Series: Medium Cool
Humanities Quadrangle, L02
Medium Cool (Haskell Wexler, 1969, 35mm, 111 mins). Robert Forster stars as a TV news cameraman at Chicago's 1968 Democratic National Convention in what Vincent Canby called "a film of tremendous visual impact, a kind of cinematic Guernica, a picture of America in the process of exploding into fragmented bits of hostility, suspicion, fear, and violence." 35mm print from the Yale Film Archive. The "Art & Protest" film series is presented by the Beinecke Rare Book & Manuscript Library and the Yale Film Archive in conjunction with the exhibition "Art, Protest, & the Archives" on view at the Beinecke through January 7, 2024. Free and open to the public. 
Saturday, Nov 4 ●  9:30am-12pm
Beinecke Rare Book & Manuscript Library
Join us for Educators' Open House at the Beinecke Library! School teachers are warmly invited to learn about:
Current and upcoming exhibits: Art & Protest; Shakespeare; Douglass; Baldwin & Harrington
Digital and facsimile materials for classroom use
Resources for teaching New Haven and Connecticut history
Professional learning opportunities
Refreshments will be served from 9:30-10:30am. Archival items will be on view in the Reading Room from 10am-12noon. 
Please RSVP HERE!
Looking Ahead

Thursday, Nov 2  ●  4pm 
Online
 The Teacher Leadership Program is a free, one-hour workshop on Zoom for educators of all levels and disciplines that meets at 4:00 pm on the first Thursday of the month throughout the academic year. The sessions are led by Jessica Sack, the Jan and Frederick Mayer Curator of Public Education; Wurtele Gallery Teachers; and Education Department staff. In this program, educators explore innovative ways to connect their curricula and interest in art with the Yale University Art Gallery's collection. The sessions also address online and in-person teaching techniques.