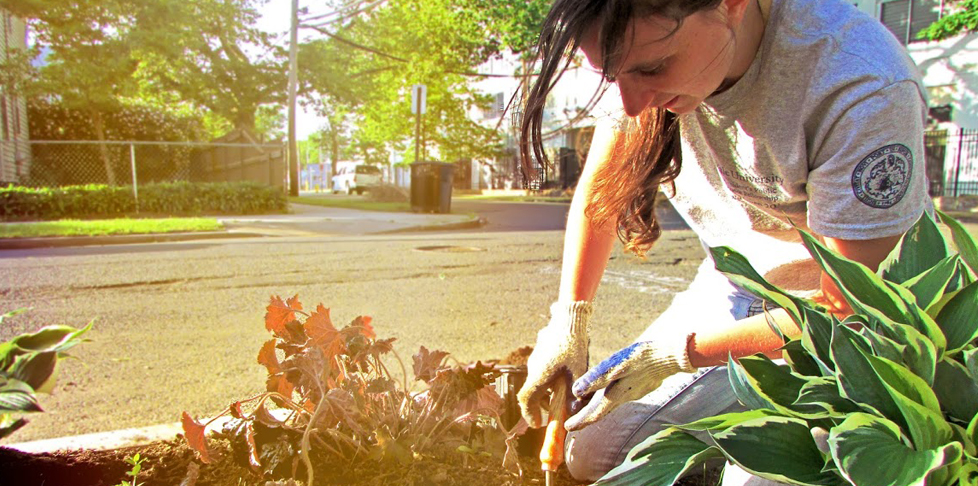 Many university departments and organizations volunteer their services and expertise to the broader community. Listed below are some examples of the ways these Yale organizations contribute to a strong New Haven. (If you are part of a Yale organization focused on community outreach and are not currently listed here, please email karen.king@yale.edu). 
Yale College
Dwight Hall at Yale is an umbrella organization which serves as a central hub for undergraduate outreach. It fosters civic-minded student leaders and promotes service and activism in New Haven.
Elmseed Enterprise Fund's mission is to facilitate the creation of successful small businesses in New Haven. By providing access to small, low-interest loans and technical assistance, Elmseed seeks to open the capital markets to motivated entrepreneurs who lack the capital or resources to start or expand small businesses.
Yale Graduate School of Arts and Sciences
The Public Service Fellows help connect students with organizations, events and volunteer opportunities in the greater New Haven community, including tutoring positions in the New Haven public schools and the New Haven Reads book bank, as well as on-campus through the Dixwell-Yale Community Learning Center and the Science Outreach office. Other avenues for involvement include food banks, blood drives, voter registration, immigrant advocacy organizations and regional conferences on hunger and homelessness. 
Yale Indian Papers Project
The Yale Indian Papers Project, housed at the Yale Divinity School, is a National Endowment for the Humanities-funded scholarly editing endeavor and collaborative research initiative that promotes understanding of, and dialogue on, the historical and cultural forces that have shaped New England life for several hundred years.  Currently focused on Connecticut Native communities, the Project represents a partnership with local, regional, and international institutions and several local tribes.
Yale Law School
The Jerome N. Frank Legal Services Organization (LSO) links law students with individuals and organizations in need of legal help who cannot afford private attorneys. The law school also provides numerous clinics including advocacy for children and youth, immigration legal services, landlord-tenant disputes, mortgage foreclosure advice, veteran services and community and economic development expertise.
Yale School of Architecture
The Yale Urban Design Workshop (YUDW) is a community design center based at the School of Architecture. Since its founding, the YUDW has worked with communities all across the state of Connecticut, providing planning and design assistance on projects ranging from comprehensive plans, economic development strategies and community visions to the design of public spaces, streetscapes and individual community facilities. Clients include small towns, city neighborhoods, planning departments, Chambers of Commerce, community development corporations, citizen groups, and private developers. After a number of years on the Yale campus, the YUDW is currently located in a storefront space on Chapel Street in New Haven's Dwight neighborhood, two blocks from the School of Architecture.
In all its work, the YUDW is committed to an inclusive, community-based process, grounded in broad citizen participation and a vision of the design process as a tool for community organizing, empowerment, and capacity-building. A typical YUDW project may include design charrettes, focus groups, and town meetings, as well as more conventional means of program and project development. These projects are staffed mainly by current graduate professional students at the Yale School of Architecture supervised by faculty of the School, but often also include Yale College undergraduates, recent graduates of the School as full-time staff, faculty and students from Yale's other professional schools (including the Law School, the School of Forestry and Environmental Science, the School of Management, the School of Public Health and the School of Art), as well as outside consultants and other local professionals.
Yale School of Drama
The Dwight/Edgewood Project brings eight 6th and 7th grade students from Barnard Environmental Studies Magnet School to the Yale Repertory Theatre for a month-long, after school playwriting program designed to strengthen students' self-esteem and creative process. The program includes one-on-one mentoring, theater games, numerous playwriting exercises and a weekend long writing retreat in northern Connecticut. Yale School of Drama students lead the program, serving as mentors, directors, and theater technicians. The program culminates in June with the presentation of eight original plays over two evenings of free performances.
Yale School of Forestry and Environmental Studies
The Urban Resources Initiative (URI) is both a part of the Yale School of Forestry & Environmental Studies, as well as a separate nonprofit founded in 1991, which uniquely positions the organization to serve as a remarkable bridge. Its mission is to foster community-based land stewardship, promote environmental education, advance the practice of urban forestry, and provide clinical learning opportunities to Yale students. URI has two main programs: GreenSkills and Community Greenspace. 
GreenSkills is a local green jobs program that employs adults with a history that includes incarceration and high school students. These crews work with Yale students to plant trees for free for anyone in New Haven who is willing to adopt and care for a tree. The adult crews also construct and maintain bioswales to reduce flooding and its impacts throughout the City. The success of this program is based on its partnership with the City of New Haven, EMERGE CT, Common Ground High School, and the Sound School. 
The Community Greenspace program provides material supplies, technical advice, and hands-on training to support resident-driven community greening projects. New Haven resident volunteers work in groups to identify the projects and lead them. Each summer 40-60 groups work weekly in New Haven parks, vacant lots, streetscapes, and other public parcels. Since 1995, URI staff and Yale interns have worked with thousands of volunteers to complete over 300 diverse urban restoration projects.
Yale School of Management
SOM Nonprofit Board Fellows volunteer their time to serve on nonprofit boards in and around New Haven.  In addition, the Social Impact Consulting Club provides pro-bono consulting to several New Haven nonprofit organizations each year.  Many student clubs also convene annual conferences that feature local leaders among their speakers.
Yale School of Medicine
The Committee Overseeing Volunteer Services (COVS) is the student-run umbrella organization for many volunteer services. 
Started in 2005, the Haven Free Clinic is a student-run clinic which offers free primary care services supervised by attending physicians. Organized by students in the health professions, the clinic is run out of the Yale Physicians Building from 9 a.m. to noon on Saturdays.
SAY New Haven is a four-day, pre-orientation program in which students help with a range of service projects throughout the city. Habitat for Humanity, volunteering at the Ronald McDonald House and paint projects are some of the things students have done in the past.
Yale School of Music
The School of Music supports the work of the public schools of New Haven, the region, and the country through its broad Music in Schools initiative. It provides programs in New Haven public schools that complement the work of full-time music teachers, hosts a biennial symposium for teachers in public schools from around the United States, and hosts visiting professors to work in music education and train School of Music students and New Haven public school teachers.
Yale School of Nursing
YSN is recognized throughout Greater New Haven for its role in improving the health of our local community, especially among the community's most vulnerable populations, for providing health education and mentorship in public schools, for advancing diversity training and education throughout Yale University, and for increasing opportunities for high school students to pursue university education and careers in the allied health sciences. 
Yale School of Public Health
CARE was established in May 2007 as an integral component of the Yale Center for Clinical Investigation (YCCI).   The establishment of CARE at the Yale Center for Clinical Investigation provides an unprecedented opportunity to foster rigorous community-based research and to translate findings of scientific breakthrough and discovery to enhance health care. CARE's efforts to develop new models for conducting community-based research have real potential for improving the health of the residents of New Haven and beyond.
The Wednesday Evening Clinic is the longest running student-run clinic at Yale, currently run out of the Primary Care Center. 
The Robert Wood Johnson Foundation Clinical Scholars Program at Yale has been training physician health leaders for more than three and a half decades. The Yale Program is committed to developing health leaders to improve health and the quality of healthcare. Through coursework, mentored clinical and community research, exposure to senior level leaders, and patient care, Scholars develop the experience and skills necessary to lead positive change.