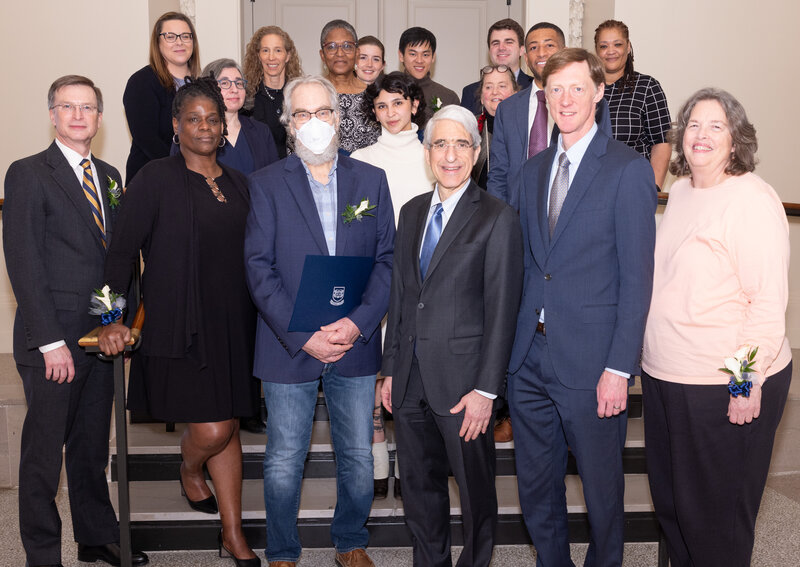 President Peter Salovey and Mayor Justin Elicker presented four individuals and four groups with Yale University Seton Elm-Ivy Awards at a ceremony on campus on April 4, 2023.
Yale University and the City of New Haven enjoy a strong relationship, with success evident in economic development, neighborhood homeownership, academic partnerships with public schools, and a vital downtown.
The cooperative relationship between Yale University and its hometown works because of the commitment and leadership of countless people on campus and throughout New Haven. Each year, outstanding individual effort to sustain and nourish the partnership between "town and gown" is recognized through the Yale University Seton Elm-Ivy Awards.
The Awards were established in 1979 through the inspiration and support of the late Fenmore Seton (Class of '38) and his wife Phyllis, who established an endowment at the Community Foundation for Greater New Haven to support the awards. The first Elm and Ivy Awards were given in 1980. Since that time, four hundred forty five individuals and organizations have been honored.
Individual Elm Awards are given to adults in the broader New Haven community. Ivy Awards are given to Yale staff and faculty, Yale College undergraduates, and Yale University graduate/professional students.  One other category was also established, the Combined Elm and Ivy Award to honor persons who on a long-term basis have served both Yale University and the City of New Haven with special distinction.
Nominations are sought to recognize individuals who provide exemplary service to further strengthen the relationships among the New Haven and Yale University communities.