Featured Content
With new $140+ million Yale pledge, Yale, New Haven promote growth, economy
Yale University and the City of New Haven recently reconfirmed their historic, three-century partnership for a new generation, announcing a six-year commitment that increases the university's annual voluntary financial contribution to the city and creates bold opportunities for inclusive economic growth that benefit the entire community.
Yale University announces first round of donations through the Yale Community for New Haven Fund
Yale University announced an initial round of donations through its Yale Community for New Haven Fund. The fund, recently announced by Yale University President Peter Salovey in response to the COVID-19 pandemic, will support the delivery of healthcare, assistance to local businesses, community educational needs, and area not-for-profits focused on such pressing issues as the well-being of children and families, homelessness, and food insecurity.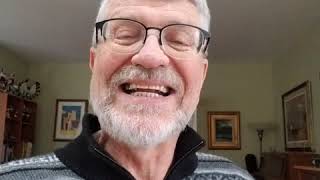 Yale Pathways to Science: Public Health Virtual Adventure!
Did you know the first week of April is National Public Health Week? Are you interested in exploring the many pathways to public health studies and careers? The Yale School of Public Health has put together an exciting set of online materials and videos about this broad area of STEM. Click here to learn how public health is everywhere.
Pathways' SheCode!
In February, 2020, Pathways to Science high school girls joined Yale computer science majors for the fifth annual SheCode spring series! Students spent four Sunday mornings exploring Python computer language. They learn advanced coding techniques, developed their own applications, and developed a team-based final project. A pizza lunch celebration ended the series. Thanks to all our Yale undergraduate volunteers! We will see you in the fall!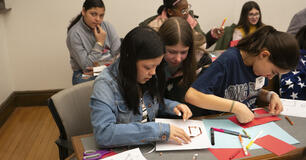 Girls' Science Investigations: The Electronic World
During the February 2020 session of the series, middle school participants made paper circuits and played with resistors, light bulbs, LEDs, and more. They made interactive cards for Valentine's Day and a buzzing game to play with their friends. The mission of Girls' Science Investigations (GSI) is to motivate, empower, and interest girls in developing the skills they need to pursue careers in science.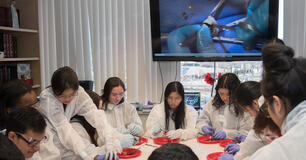 Ophthalmology Day 2020
In February, our Pathways High School students had a blast at this year's Ophthalmology Day! Students were joined by the Ophthalmology Department and the Yale League of Black Scientists to learn about how the eye moves and functions. Activities included VR sessions exploring eye anatomy, hands-on dissections, and demos with slit lamp machines. In addition, the Yale League of Black Scientists hosted an informative panel discussion on how to prepare for and transition to college. Special thanks to all our volunteers who made this event so fun and informative!