Application Open!
Join us this summer for 2 weeks of STEM learning
with Yale Faculty & Graduate Students!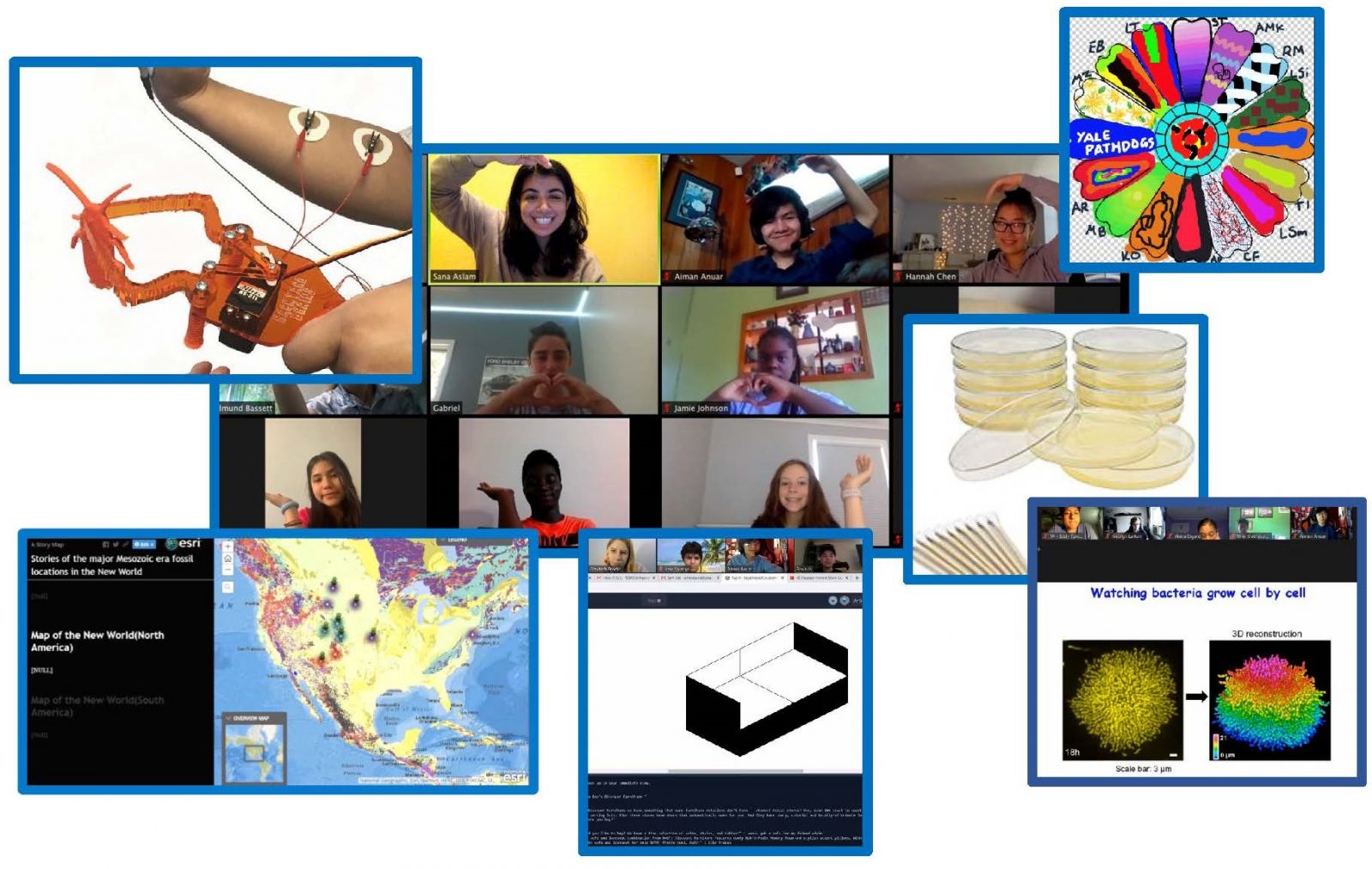 Pathways Summer Scholars is a free two-week summer science program exclusively for 100 Yale Pathways high school students. Students take 4-day workshops on topics like Electronic Music & Engineering, Introduction to the Cloud, Dark Matter of the Genome, The Science of Light, Exploring Allergies, Mechanics in Biology, and more!  The program will be virtual for Summer 2021 , but hands-on science kits will be sent home to students. See below for more information about our most popular program for Pathways students! 
PROGRAM ELIGIBILITY 
Must be a Yale Pathways to Science student currently in Grade 9, 10, or 11.
Must apply by Thursday, April 1.
Note: If you are applying to a Yale lab internship, you may still be able to do this program.
PROGRAM APPLICATION
Application: http://onha.yale.edu/scholar2021
Teacher Rec Form: http://onha.yale.edu/teacher2021
PROGRAM DATES
July 11-July 22 (Rising seniors continue with College Essay workshop until 7/30)
Date Breakdown:
July 11:  Student Orientation
July 12-15:  Week 1 Workshops
July 19-22:  Week 2 Workshops
July 23, 26-30: College Essay Workshop (rising Seniors only)
DAILY SCHEDULE
9:30-11:30, 1pm-2pm
Example Schedule:
9:30-10:00am:   Advisory Group with your Yale College mentor
10:00-11:30am:   STEM Workshop (e.g., The Power of Electrochemsitry with Dr. Weber)
-Break-
1:00-2:00pm:   Enrichment Lecture (e.g., Hacking the Brain's Chemicals with Drs. Savalia & Ortega)
WORKSHOP OPTIONS FOR SUMMER 2021
Chemistry on Canvas: The Science of Colorants in Paintings
Consciousness - Self, Science, and Society
Creating a Small Video Game using Construct 3
Dark Matter of the Genome
Design of New Materials using Supercomputers
Electronic Music Online
Exploring the (Simulated) Universe
Intro to Geographic Information Systems (GIS)
Introduction to the Cloud
Living forces: Mechanics in Biology
Measuring chemical properties at home with scientific tools
Mechanics and Biology
Molecule by Molecule
Neuroeconomics: The Science of Decisions
Peanuts to Plasma Cells: Exploring Allergy and Immunology
Perception and Cognition
Sensory Physiology Club
The Microbes On and Around Me
The Power of Electrochemistry
The Science of Light
The College Essay (rising seniors only)